WTUL DJs share what we've really been into, whether it's apparent from our shows or not. Hope you find something you like!
DJ Kit Kat recommends "Rose Garden" by Akiko Yano

I have been absolutely obsessed with this brilliantly strange '80s new wave jam from Akiko Yano. I actually found this song through the station on a vinyl compilation, Tokyo Mobile Music 1. I'm a complete sucker for what some might consider "cheesy" and dated synthesizers, and this song is full of them with a driving force that's infectious. If you love Yellow Magic Orchestra, you're in for a treat as they all have their hands in this just as much as Yano - there's even Masami Tsuchiya on guitar! No surprise that the dream team would create such an incredible track. I personally recommend you listen to Yano's album Ai Ga Nakucha Ne if you're looking for more from her.
DJ Kit Kat is on every other Sunday, 12am-2am.
Teeny recommends Knower
Knower is comprised of vocalist Genevieve Artadi and drummer Louis Cole. A majority of their work can be found on youtube. They write all the music and create all the music videos. I honestly can't write about them because it wouldnt do them justice. it's an experience. They mix very complex harmonies with electronic music...which is what that music was always missing. Knower made me love electronic music. They've been featured in GTA, written songs for Thundercat, performed with Snark Puppy and opened up for the red hot chili peppers with their full band. Do yourself a humungous favor and listen to them.
Teeny's show is Saturday 6-8pm. DJ Jules recommends Chulita Vinyl Club.

https://www.chulitavinylclub.com/

I have been following this collective of femme-identifying Latinx women for a while and finally got to meet some of them in Austin this summer. They play a whole bunch of genres but have introduced me to a lot of Latina songwriters and musicians. Launched in 2014, the all-lady, all-vinyl collective now has 7 chapters in Texas and California. Check out their inspiring mixtapes and playlists on their website.
DJ Jules is on Tuesdays 2-4pm and the reggae show every other Monday at 8pm.
DJ Lemonade recommends Bad Suns
If I'm not excited about music, I'm not living. Seriously, I always have some tune playing in my head, like a living playlist - but recently, I rediscovered an album that came out last year and had been sitting in my car for the better part of six months. The band Bad Suns came out with their sophomore full-length studio album, Disappear Here, and I was beyond stoked. It throws back to the eighties in a way that is both current and fun, and is in a way much more upbeat and cheerful than their moody freshman effort. (Not that I didn't love that one - this one just comes at a serendipitously optimistic time in my life.) Rocking and full of dance tunes (or maybe just bops to dance badly to, I don't know, I feel like they're the same thing), it really captures an ebullient feeling that I haven't found replicated in many other pop/rock albums lately. I admit fully that I may be a little biased, as this was the band that I skipped my senior prom for, but they're honestly so much fun, both live and recorded, that you should give this album a listen, and if you really like that one, then go see if they're coming to your town on their tour this fall.
DJ Lemonade has a classical show from 6-8am every Tuesday and is never quite sure how she gets out of bed in time for it every week.
DJ OE recommends Love What Survives/ King Krule

Mount Kimbie's new album Love What Survives drops on September 8th, but I'm already deeply obsessed, thanks to the first three singles.
The first single "We Go Home Together," released earlier this year, is an eerie, organ heavy collaboration with MK's old pal James Blake. I could be very wrong, but it seems like this song is about bringing a girl home from the club. It's kind of like that Ed Sheeran song "Shape of You," if that song had a much cooler step-sibling that didn't refer to bedding as "bed sheets."
Anyway, the second single "Marilyn," featuring Micachu, feels like a run of the mill Mount Kimbie song, but more evolved and sentimental. Those damn dreamy mallets get me every time. Listen to it right now if you happen to be in a bad mood.
The real MVP in this group of singles is "Blue Train Lines," featuring fellow Londoner King Krule née Archy Marshall. This kid (full disclosure: we're the same age) has one of the most distinct baritone voices I've ever heard. He's agnst-y as always, but he sounds like he's experiencing a spectacular amount of pain on this track. Why is he yelling in the background? I don't know but I love it!! King Krule and Mount Kimbie are clearly exploring new sounds and stepping out of their comfort zones. If you're also unfamiliar with King Krule/Archy Marshall, please look into his output. I've been following him for years and he just keeps improving with age. Pro tip: he's got a million monikers he releases music under, like Edgar the Beatmaker, djjdsports, Return of the Pimp Shrimp, etc, so dig deep!
DJ OE is on Fridays 10am-12pm
Hunter recommends Jet Grind Radio/Jet Set Radio Future
I've been in a video game soundtrack mode, which started with an obsession over the Megaman X soundtracks and brought me back to my most undying love: Jet Set Radio.
Non-video game people, please stick with me for a sec. Visually these games were instantly striking, being among the first to use cel-shading, which makes games look like cartoons. They were colorful and outlandish. But the soundtrack was the glue that held it together: a vibrant, upbeat mix of sample-heavy big beat, hip-hop and funky weirdo rock. The first game's soundtrack (for the Sega Dreamcast) was almost entirely by composer Hideki Naganuma. For the second game (on Xbox) Naganuma was backed up by selections from the Beastie Boys' Grand Royal Records. Though the Beastie Boys aren't on the soundtrack, both soundtracks carry the same levity and goofiness that you might asssociate with them.
In movies there are a lot of soundtracks that stretch past just being a compilation and become an encapsulation of the mood of the artwork it's attached to - a mood that stands out as unique and we all come back to. Pulp Fiction, Lost in Translation, Trainspotting, Drive. The Jet Set Radio games are instance where a video game delivered in that way. I know I'm not the only one that feels that way, because somebody made a site that plays songs that either are on the Jet Set Radio playlist or songs that would be.
Hunter DJs Storm Surge of Reverb: Surf & Instrumental Rock & Roll Mondays 4-6pm
DJ D-Rob recommends Editors - Munich

There's a bartender that has great taste in music and I'm constantly picking his brain. I've seen him say "sorry we don't take requests" to probably a hundred people. I mentioned that I started liking this band he never heard of from the U.K. called Editors and I told him what little I knew about them. Next thing I know, he puts this song on, and I felt strangely honored that I was the first person I'd ever seen him take a suggestion from.
Munich is the city in Germany where there was a massacre of 11 Olympians when a hostage situation went south. I think the lyrics have multiple intended meanings and can also apply to a relationship. Michael Stipe really likes the words and has done an acoustic cover of this song with R.E.M. that's also worth checking out.
DJ D-Rob is Tuesdays Noon-2pm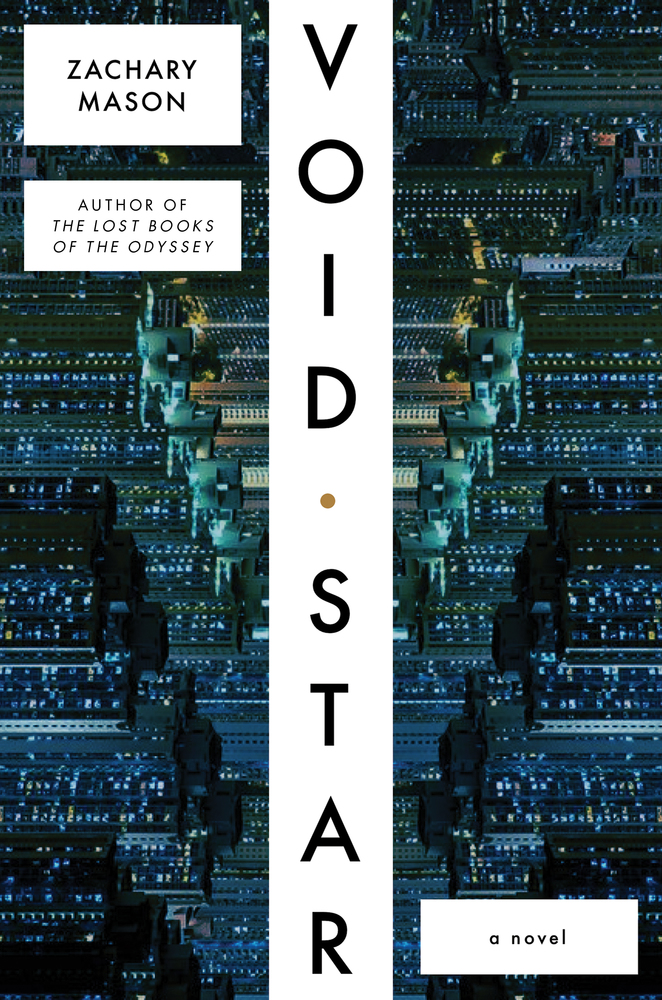 DJ Liz E's montly sci-fi recommendation: Void Star by Zachary Mason

Woah. On so many levels. Woah.
Zachary Mason is a real life AI developer who writes "sci-fi" novels on the side. And I use "sci-fi" loosely, since the whole reason Mason wrote this book is because he sees the capabilities of the AI tech he is working with IRL and the implications for what that technology is developing, and writes this novel as a sort of warning for where we are heading.
And where we are heading is a world where there are clearly two separate classes of humanity - those who, because of their wealth, have the means to seek almost an eternal youth through annual treatments, genetic augmentations, or, as is the case with several of the characters, brain implants that enhance and supplement their ability to save and recall memories; and the rest of humanity who live in crowded, walled off slums with limited access to technology, education, jobs, healthcare or a chance to even leave, and AI who will essentially, not need humans.
The story follows three main characters: Irinia, an expert with an increasingly rare cranial implant to diagnose "misbehaving" AI; Kern, a seemingly orphaned street kid who teaches himself martial arts using a laptop with an intuitive AI system installed; and Thales, a son of a former prime minister recovering from an assination attempt wherein he also recieved a cranal implant. At first, their stories are almost discombobulatingly unconnected. But then, they began to be woven into one story, that I promise, makes a whole lot of sense.
Void Star (a reference to void * in the computer language C++, for "the unknown") is very much a William Gibson style cyber thriller but there were definitely a few times where it got a little too Matrix-y for my liking. However, overall, the book left me with me with the profound feeling that we're screwed, the computers are going to take over if we're not careful, Skynet is real, Singularity is coming, and I'm way too much of a nerd to have read this by myself without a book club of other sci-fi nerds to talk to about it with.
DJ LizE is the host of the Kids Show every Saturday from 8-10am.

Dave reports on Documenta 14

every five years kassel germany is host to an international art exhibition, known as documenta. in 2017 documenta 14 opened on 10 june and will run until 17 september. perhaps the best example of sound art was presented by american artist pope. L, consisting of a complex set of performances and sound sculptures entitled "whispering campaign." the work consisted of citywide burried sound, contained within cars, trees, and restroom lockers with the recitation of the words [in german/english/greek]: "ignorance is a virtue." it should also be noted that pope.L made an apprearance in new orleans as part of prospect 2 and was interviewed at w t u l in 2011. http://www.documenta14.de/en/artists/13513/pope-l + http://www.artnews.com/2017/06/08/careful-whisper-pope-l-discusses-his-documenta-sound-work-hidden-across-kassel/
a second component of documenta's commitment to sound is via radio through a program known as "everytime a ear di soun." various radio stations around the world are participating through special programming. for more information check out: http://www.documenta14.de/en/public-radio/
Dave is on Tuesdays from 8-10am